I walk out of the gym tonight and check my cell phone for the time. Sure enough, 9:11.
Tomorrow night the lights will be on again. Time rolls on.
Spent the 4-day work week in market.
All week long. Next week too. Buying the Spring line. What a weird way to spend a couple weeks. I don't like the show-rooms. That's all I'll say about it right now.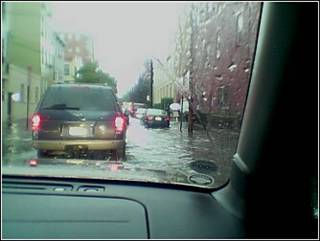 That's what Hoboken looked like on my way to work on Wednesday.
Coming back from Thursday's appointment, I walked between the back side of MSG and the Post Office that sits across 8th Ave. Hadn't seen this during the convention, but its pretty cool - a foot-bridge temporarily erected from the Post Office building that led over 8th Ave. and straight into the Garden. The media was housed in the P.O. building during the convention, and this way they didn't even have to go outside to walk right into the convention. Smart thinking.
Some of the cooler stuff I found this week:
A CNN article on trolling for the college vote.
The picture is from the event that I met Dave Barry at. And, what's more, the article mentions GCC.
Go
here
to watch the speeches from the conventions.
I-pod wrappers
for you uber-trendites...
Elsewares.
Cool artsy stuff at more modest prices than you'd normally find in the city. Good gift ideas.
Communists for Kerry.
Funniest
Mac ad parody
I've seen yet.