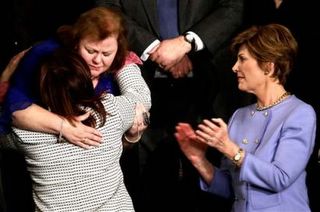 Well yesterday the prognosticator of prognosticators came out and made me happy man - I could actually go for like 60 more weeks of winter. Anyway, a bigger mammal took center stage later in the day and had some more important things to say. About what I expected (pleased with the shout-outs to Syria and especially Egypt). Have to question your sense of American freedom-lovingness if the part pictured above didn't give you at least a brief pause.
Interview #2 went well, looking forward to #3. Got my test date with the Bureau in the mail today too. Prayer continues. In the meantime, what's to link to?
Evite
for Christianity Uncorked #3. Its all full up. I registered an extra spot, but already gave it away. If you'd still like to go, though, hit me up.
A plethora of Gmail euphoria:
How to get your yahoo or hotmail forwarded to your new gmail (w/o paying yahoo or hotmail):

Returnpath looks free and therefore sketchy.

This convoluted process looks as close to the method I originally used that I can now easily find on the internets.

This looks less convoluted but maybe a bit more sketchy.
Gmail paranoia.
And those
watching the watchers.
Unofficial Gmail FAQ.
Its
that
time again. I used
this one
last year, but I'm shopping around this year.
Found
this interesting blog
when I was googling for an article my sister wrote a while back. They've been at it for a while over there.
Cool site.
This site is NOT easy to navigate, and it may be even tougher to figure out after you start to get the hang of the navigation, Matty (the writing style is apparently influenced by one of my
fave movies
). Hint - explore with your mouse on the first page. Quality NYC info here.
Interesting
interview
with one of the Christian influences behind
The Simpsons.
Mmm...forbidden donut.
Ooooh, I hate
them.
Mean.
But useful.
This
is the general idea. Unfortunately this seems like a really rough attempt and the interface is probably too junk to ever make it what it can be. But its the general idea. One day we'll all be copper tops.
Sign up at
Bebo
and have access to your address book online, all the time. I'm on it, so hit me up if you sign up.
Last of all,
this
is a really innovative idea for a website. It looks like some kind of on-line bazaar / auction, where you can sell or buy just about anything. Keep an eye on this one.